Beginner's Guide on Cyber Security Jobs
Are you a student and thinking about jobs in Cyber security? Or
Currently working in IT sector, but want to shift into cyber security, But you don't know how to get into Cyber Security?
Then you came to the right place.
Here you will find the details of cyber security careers.
Day-by-day homes and workplace are becoming more digital and interconnected.
As technology is growing, we are using new applications to complete our work. It leads to several new threats that didn't exist before.
A decade ago, security was not a big concern for companies and banks. But, in these days hackers are using malware, bots and other type of methods to attack companies and banks. Organizations need an effective cyber security system to handle cyber attacks.
The projected growth of information security jobs is 37% from 2012-2022 (Bureau of Labor Statistics, USA). Which is much faster than the average for all other occupations.
So there is a huge demand for cyber security professionals around the world.
In this article you can find details on
A). What is Cyber security and why cyber security is important?
B). Is cyber security a good career for you?
C). Different types of cyber security jobs?
D). Educational qualifications for Cyber Security jobs.
E). Top cyber security certifications
F). How to start a career in cyber security?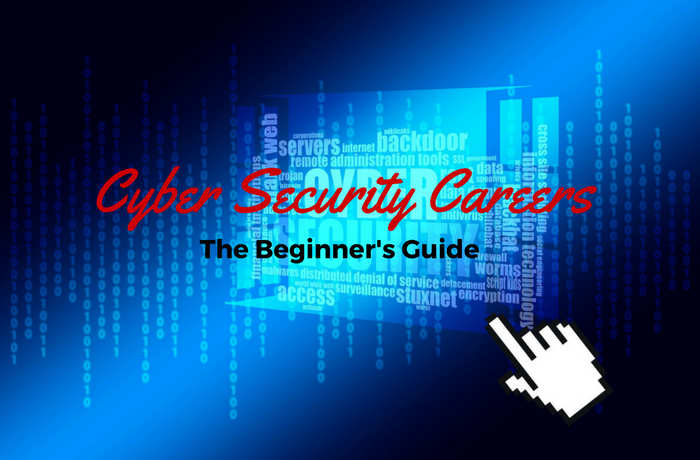 So, Lets Start
A). What is Cyber security and why it is important?
Cyber security or IT security means" protection of computer systems from the theft or damage to the hardware, software or the information on them from unintended or unauthorized access, change or destruction".
In these days, companies and banks are using computers to store and process the data. They are using computer networks to share information. Cyber criminals are attacking these networks to steal sensitive data of the organization.
Why cyber security is important?
Cyber security has become one of the most important concerns around the globe. As the technology is growing, hackers are finding new loopholes to attack.
Cyber attacks fall into two broad categories: breaches in data security and sabotage.
The most common types of cyber attacks are coming under data breaches. Data breach means accessing of sensitive information by an unauthorized person. In this type of attack, an attacker enters into a corporate network to steal sensitive data.
Sabotage is nothing but deliberate attacks intended to disable computers or networks. So it leads to disruption in the network and services.
So they must protect their systems, data, programs and networks from cyber attacks. That's why organizations are spending huge budget on cyber security.
B). Is cyber security a good career field for you?

Is cyber security career a good choice for you?
Which is a common question comes into our mind.
Let's find some statistics about cyber security careers to find the answer to this question.

1. Cyber security Market Reaches $75 Billion In 2015; Expected To Reach $170 Billion By 2020. (Forbes)

2. "There are 209,000 unfilled cyber security jobs in the US and postings are up 74% over the last five years." (Forbes)

3. "The cyber security workforce shortfall will range from 1 million to 2 million positions by 2019, according to the Center for Strategic and International Studies." (Source: UPI)

4. "Nearly 75% of security professionals say they do not have enough staff to defend their organizations against current threats, according to a survey from the Black Hat USA computer conference." (Source: PRNewswire)

5. The average salary for "cyber security" ranges from approximately $11.39 per hour for a Security Officer to $59.41 per hour for Security Consultant. (Source: Indeed)

6. Total annual global cyber security spending ranged from $75 billion to more than $100 billion in 2015. Project annual cyber security spending increases between 7.4%– 16% over the next five years (Source: mcafee)
7. The median cyber security salary is at least 2.7 times the average wage, according to the OECD.
8. Cyber security jobs in the United States pay an average of $6,500 more than other IT profession, a 9% premium.
According to Indeed recent report world wide there is a huge demand for cyber security professionals.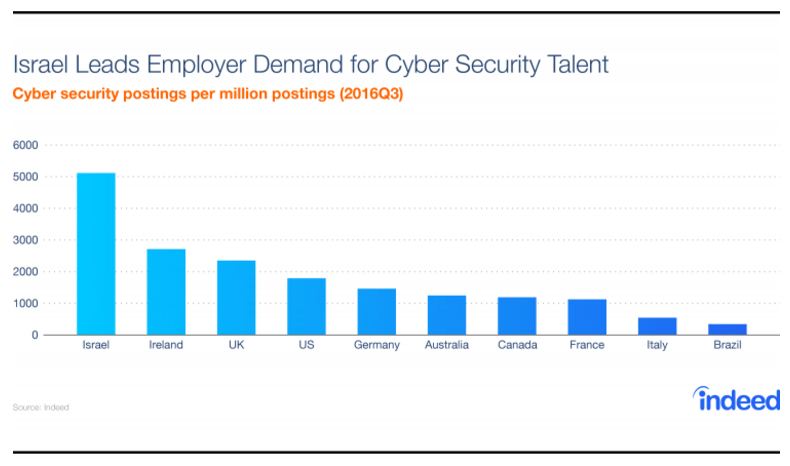 Source: Indeed
So selecting a cyber security career is a good choice for you.
C). Different types of cyber security jobs?

Now a days we are seeing lots of news about hacking, data breaches of high profile data in the news.
So organizations are increasing their concern around security of their data and systems. They need qualified, talented security professionals.
According to the indeed The global cyber security skills gap report, there is a huge demand for cyber security professionals in all countries.
Let's find out different types of cyber security jobs and their average salaries.
1. Chief Information Security Officer (CISO)
A Chief Information Security Officer (CISO) is a C-level management executive. His main task is to handle the overall security of the organization. So, he handles the organization's IT security department operations and other related activities.
CISO responsibilities
a He should develop IT security plan and risk management programs. CISO supervises the security policies, standards and procedures as per the requirements.
a Integrate IT systems development with security policies and information protection strategies. He will appoint and guide the security professionals.
a Audit existing systems and giving comprehensive risk assessments is another duty of CISO.
a He should find out new security threats and stay-up-to-date with evolving infrastructures
a Maintain procedures, standards, and policies to protect the privacy and integrity of data.
a Ensure compliance with regulations and security policies.
a Provide information and training related to information technology and security systems.
a Develop contingency plans and manage security breaches.
a Supervise development and application of security procedures and protocols.
As per Payscale report, The average salary for CISO in US is $154K per year.
2. Security Architect
A security architect is a senior level employee in the organization. The main responsibility is building and maintaining the computer and network security infrastructure.
He must understand the moves and tactics of hackers and how they will access the data. So that he can design and oversees Information technology, systems and policies.
They should also focus on latest developments in hacking and attacking methods.
As per payscale, a security architect earns an average salary of $118,681 per year.
3. Security Director

A Security Director oversees IT security measures throughout an organization.
He must have knowledge of IT strategy, enterprise architecture, and other security-related concepts. He works like a CISO in smaller organizations.
As per payscale, the average salary for a Security Director is $134,798 per year.
4. Security manager

A Security Manager is a mid-level employee. He handles organization's IT security policy.
He must create and execute strategies based on the input from the CISO/ Security Director.
To succeed as security manager, he must have strong interpersonal and communication skills. He is responsible for identifying imaginative security solutions, implementing policies and training procedures.
He should test and use new security tools. And then develop new policies and conduct security awareness campaigns.
He must have a thorough knowledge in programming, enterprise architecture, and IT strategy.
As per payscale, an Information Security Manager earns an average salary of $106,115 per year
5. Security Engineer
A Security Engineer is a mid-level employee.
The main responsibility is Building and maintaining the company's IT security solutions.
Configuring firewalls, test new security solutions, and investigate intrusion incidents are other duties. Then he should send a report to the security manager.
As per Payscale, a Security Engineer earns an average salary of $87,303 per year.
6. Incident Respondent

An Incident Respondent is a cyber firefighter. His main duty is addressing security incidents and threats within an organization.
He will track the organization networks for intrusions. Conducting security audits, penetration testing, malware analysis and reverse engineering are other duties.
Reducing the damage of given incident and preventing similar type of intrusions are also duties of Incident Respondent.
Incident Responders can expect to earn between $50,000 and $150,000 per annum.
7. Security Consultant

A Security Consultant is an outside expert. As per the organisation needs he suggests the best solution to secure companies' data.
To work as a security consultant, you must have thorough knowledge in a wide range of security standards, security systems and authentication protocols.
As a security consultant, you must understand the complete picture of the company. You should understand the organisational corporate policies, requirements of the key stakeholders, policies.
Then only you can create and deploy the a proper security plan for the organisation.
IT Network Security Consultant average salary in the US is nearly $82K per year.
8. Computer Forensics Expert
The function of Computer Forensics Experts is analyzing the evidence gathered from computers, networks and other data storage devices to investigate incidents of computer crime.
These people work with law enforcement agencies to compile evidence for legal cases, draft technical reports or offer expert testimony in trial, and train law enforcement in computer evidence tactics.
Forensic Engineers average salary in the US is $83K per annum.
9. Malware Analyst
The main function of malware analyst is to understand the viruses, worms, bots, Trojans and other malicious software that threaten its network on a daily basis and help the organization.
Malware Analysts work with Computer Forensics Experts and Incident Responders. He helps them to identify malicious programs that may have infiltrated in an organization's network.
Malware Analysts can expect to earn at least $48,000, but some can take home as much as $100,000 a year.
10. Security Specialist
Security Specialist represents a wide variety of jobs at intermediate-level IT security jobs.
He handles designing, testing, implementing and monitoring security measures of the organization.
First, he must analyze the organization's security requirements.
Then he installs and configure security solutions for corporate networks. He performs vulnerability testing and help to train fellow employees in security awareness.
The average salary of Security Specialists in US is $72K per annum
D). Educational qualifications for Cyber Security jobs

To start your career in Cyber security, you must be a graduate.
As per Burning Glass 2015 report, 84% of cyber security postings specify at least a bachelor's degree and 3 years of experience.
But most of cyber security jobs needs extra certification in cyber security.

E). Top cyber security certifications

The cyber security job market, certifications are also playing an important role to get a job. So to get better jobs, you must have the relevant cyber security certifications.

Let's find top cyber security certifications

Cyber security certifications administered by the independent accrediting organizations. Includes CompTIA, EC Council, GIAC, ISACA and (ISC)2.
These certifications divided into three categories: entry level, intermediate and expert.
In entry-level certifications you can learn the basics – foundation principles, best practices, important tools, latest technologies, etc.
Intermediate and expert-level certifications presume that you have extensive job experience and a detailed grasp of the subject matter.
In all cyber security positions you need at least one of the certifications listed below.
i). Entry level cyber security certifications:
For entry level certifications you must need at least 3 years of experience. The following certifications consider as cyber security entry level certifications
CompTIA Security+ is globally trusted certification in cyber security. It shows that you have foundational, vendor-neutral IT security knowledge and skills.


2. GSEC: GIAC Security Essentials Certification
GSEC shows that you are capable of to handle IT systems hands on roles related to security tasks.

3. SSCP: Systems Security Certified Practitioner
SSCP shows that you have technical skills and practical security knowledge in hands-on operational IT roles.

4. CIPP: Certified Information Privacy Professional

CIPP shows that you have a foundational understanding of broad global concepts of privacy and data protection law and practices.

Advanced cyber security certifications
To get advanced cyber security certifications you must have 3-5 years of experience.
1. CISSP: Certified Information Systems Security Professional

CISSP shows that you have deep technical and managerial competence, skills, experience, and credibility to design, engineer, implement, and manage their overall information security program to protect organizations from growing sophisticated attacks.

2. CISA: Certified Information Systems Auditor
The CISA designation is a globally recognized certification for IS audit control, assurance and security professionals. Being CISA-certified showcases your audit experience, skills and knowledge, and demonstrates you are capable to assess vulnerabilities, report on compliance and institute controls within the enterprise.


3. CISM: Certified Information Security Manager
CISM shows your information security management expertise.

4. GCIH: GIAC Certified Incident Handler
GCIH shows that you can manage security incidents by understanding common attack techniques, vectors and tools as well as defending against and/or responding to such attacks when they occur.

5. GCIA: GIAC Certified Intrusion Analyst
GIAC shows that you have the knowledge, skills, and abilities to configure and monitor intrusion detection systems, and to read, interpret, and analyze network traffic and related log files


F). How to start a career in cyber security?
Cyber security is an in-demand field. Day by day cyber attacks are growing. So there is a huge demand for cyber security professional around the world. As per the Indeed recent report there is shortage of Cyber security professionals.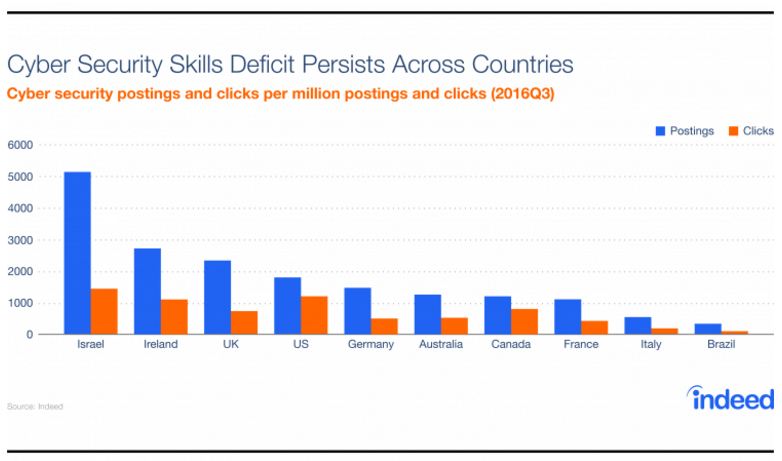 Source: Indeed
So, if you select cyber security as your career then you have better job opportunities and growth.
To start your career in cyber security first of all find out the skills and experiences do you have. Then select specific job based on these skills and experiences.
A four year degree in computer science or in general IT is not enough to get a better paying job cyber security. You must have high level skills in security, encryption and even hacking.
So if you want to make your move into this lucrative and exciting field, then you must enhance those skills.
1. Focus on IT certification - Specialization
The ideal cyber security candidate must have mixture of technical and soft skills. Most of the employers are seeking candidates who have specific cyber security certifications. Along with basic programming skills you must have at least one certification. So first earn the required certification to get a good job.

2. Build professional relationships

In today's competitive world, professional network plays a vital role in the recruitment process. So professional relationship helps not only to find a good job, but also to get career advice in your future. So use social network channels to find groups related to your jobs and join those groups.
3. Gain Practical Experience

To get the best paying job in cyber security, you must have practical experience. Download some open source web based applications and try to find out some known problems. In this way you can check whether your skills are enough or need more skills. You can also try playing with vulnerable web applications. Once you are familiar, then you can apply for application security testing positions. To gain more practical experience, try to take part in legal Hackathons.
4. Develop Leadership skills

As a cyber security professional, you have lots of responsibility for data security. So you must coordinate with lots of people in the organization. So, develop leadership and communication skills to succeed in your career.
5. Follow the latest trends in Security

Day by day cyber criminals are using various methods to hack the systems. So to succeed in your career you must have knowledge of the latest tools and techniques used by hackers. So that it helps you to develop new strategies to secure organizations' data. It also helps you to grow in your career. So follow related blogs and read cyber security magazines to get the latest updates.
Conclusion

As an Engineering graduate, you definitely have a bright future in the field of Cyber security.
According to the Burning Glass Cyber security jobs reprot Cyber security professionals have high demand in Finance (+137% over the last five years), Health Care (+121%), and the Retail Trade (+89%) industries.
At present, if you are working in IT sector and not satisfying your career growth, then you can also shift to this career.
There are various jobs in Cyber Security. So select a job profile in which you have interest.
Cyber security positions are more likely needs certifications than other IT jobs. So you must need at least one technical certification along with your normal degree.
So first get the cyber security certificate, then apply for the jobs.
What do you think about Cyber security careers?
Share your ideas and knowledge here ...