List of Hobbies that make Money for students
As a student, you can develop a new hobby and make some extra money with your hobbies at your free time.
So, let's find how?

Do you know any creative work or want to learn?
Do you want to earn extra money?
Do you have any idea about hobbies that make money?

You don't have any idea, and then this post is for you.

A hobby is nothing but whatever you do in your free time and generally do not get paid for it. There are various hobbies like drawing, music, photography, fitness and yoga training etc.

If you want to earn money with your hobby, then choose which has demand in the market and you must love to do that work.

Taking time to learn and involving in a hobby has a lot of advantages.

It helps you recharge before heading back to work.
Hobbes helps you know more about yourself, your strengths and weakness.
It helps you to improve your concentration at study, which reflects your performance.
Those who engaged in a hobby also reported greater feelings of control and mastery.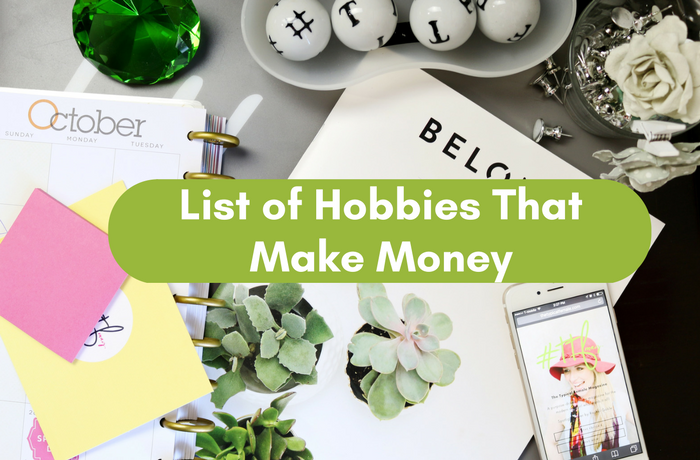 According to a recent study by organizational psychologist, learning creative hobbies boosts their work performance. So learning and practicing a new hobby helps you a lot in your personal and professional life also.

And if you became an expert in your hobby, then you can make income from it. Some people make their hobby into a paying business and then make it as a successful career.

You like this idea and want to learn a new hobby and make some extra money. But, How?

Here you can find various resources to learn a new hobby and to make money with your hobby at your free time.

How to Identify Money Making Hobbies

You may have certain general hobbies like singing, dancing, cooking, cycling, Playing Sports etc.

But think that will you earn money from these hobbies? If your answer is "no" then how to find money making hobbies.

Here are the steps.

1. List out your hobbies which you can offer as a service to other people.
2. Next, do some research whether people have interest in your service or not. If you have not done proper research then your effort will not be useful.
3. Meet some business people who have an interest in your service and discuss with them. So it helps you to check whether your idea is viable for them and is there any market for your service.
4. Start a simple campaign through classified sites or brochures and see the response. Then you can decide whether your service has demand or not.
5. Customers are essential to your business. So if there is no interest it may not be a viable option for a side hustle. Or you may have not marketed to the right people (which may be too costly for a side hustle).
6. Find out services which are in demand and skills that you already have. So that it easy for you to reach the right people with a small marketing budget.
7. Now you find a service which has demand and want to start as a business, but you want to learn some extra skills.

How to Learn Money Making Hobbies
To learn hobbies that earn money, there is no exact formula for everyone. First, identify things what moves you, and tends to hold your attention the most.

To find interested hobbies, expose yourself to more things by reading, travelling. Then only you will be able to learn or become interested in things that you don't even know exist before.

Whenever you get a new idea, don't dismiss that because you don't have the interest or it is not useful in your life. Who knows the future? May be it will come in handy someday.

It is important to try out new stuff. Go and involve in anything and everything. Try to do everything at least once if it is not an immoral thing. Then only you will get some ideas which you have an interest.

Let's find out list of hobbies that make money and resources to learn and improve your hobbies.
List of hobbies that make money

1. Photography

You love photography and you have some initial skills in photography. Then you can earn money with this hobby.

If you don't have required skills, then you should learn and practice.

I recommend that, start learning photography through your mobile phone. It is a great opportunity to learn with cell phones. Because, now a days most cell phones come with high end cameras. You can take photographs whenever you want because cell phone is always with you.

But Cellphone has some limitations.

If you want to improve your photography hobby, then buy a camera ( Digital SLRs, Point & Shoot Cameras) and use it.

But you don't have enough skills to use Digital SLRs or to take photographs, here is the list of Photography courses you can try.
PhotoDirector 7 - Photo Editing Made Easy
A Crash Course In Wedding Photography
35 Professional Photoshop Tutorials
Trick Photography Tutorials With Step-By-Step Instructions


How you can earn money with photography?

1. You can work as a freelance photographer. For this you can create accounts with Google, Flickr and then sell your photographs.

2. Another method is contacting potential clients and letting them know about your work. Then work for them.

3. Create Calendars, Posters, Gift Cards and sell it either online or to your friends and others.

4. You can upload and sell your photos to image hosting sites and make money with your images.
2. Graphics, Animation and Design

Graphic and animation is another hobby that can help you to earn some extra money.

You must have an interest towards graphic design and animation to become graphic designer.

If you have a little knowledge in graphic designing then practice with some fake ads or logos. It helps you to test your capability in designing.

If you want to improve skills then start with Photoshop and Illustrator. For this there are lots of free and paid resources available online.
How to make money with graphic designing
1. Join at local agency where you can get some experience in this field which helps you in your future.

2. You can work as a freelancer. There are lots of websites available for freelance projects. So you can register at those websites and earn money.

3. Content Writer

You have a passion for writing, then you can earn money as content writer.

There are lots of organisations looking to start their websites or to set up online stores. So all they need is copy and content writers.

But writing content for websites is different from writing for print media.

You must have command over writing and editing and SEO to become good at content writing.

You want to improve your writing skills, then there are lots of courses and tools available.
How to Write Killer Content for the Web
Copywriting secrets - How to write copy that sells

How you can earn money as content writer?
1. First try at local publishing houses offer them free articles / stories.

2. If they like your work you will get projects. Once you get a project, finish it on time. It helps you to build relationship with them.

3. Join online freelancing writers' communities on social media like Facebook and LinkedIn. So you will get the latest information about the industry.

4. Register at some freelance websites where you can get paid for to write online.

5. You can start your own blog and post your content on that blog and earn some money.

4. Blogging

If you have a free time and want to use it, then blogging is another money making hobby.

Starting a blog is easy and you can earn some decent amount of money through blogging.

Easily, you can get at least Rs.1000 per month from your blog. But you must be patient, willing to spend a little bit money, have the attitude to never give up and can do some hard work.

You are interest at blogging, But you are thinking that it needs a lot of coding to create a blog. Is it right?
Don't worry. You don't need any coding skills to create a blog.

There are some free platforms like WordPress, Joomla which helps you to create you blog with in 5 to 10 min.
There are many resources available for you to learn about blogging. So try these resources before creating a blog.
How To Turn Blogging Into A Career
Freelance Blogging Blueprint: Attract Clients & Charge More

How to earn money through Blogging?
1. If you know blogging, then create blogs for your friends and other people and earn money.
2. If you know about content writing for blogs, then create your own blog and post content in your blog.
3. Then you can use Google Adsense, affiliate marketing or sell your own products to earn money.


5. Social Media

You can earn money through social media at your free time.

Before that, just answer a small question.

How much time you are spending on social media like Facebook, Twitter and LinkedIn?

If your answer is "more than one hour", then you can earn some extra money by using social media.

To work on social media you must improve your writing, research and analytical skills. There are various online resources available. Try these resources.
Start a social media management business

How To Become a Profitable Freelance Social Media Manager
How you can earn money through Social Media?
1. You can work as a freelance Social Media Manager for any organisation.
2. You can sell your own products or other's.
3. There are some paid social media jobs available. Try these jobs.

3. Day by Day social media advertising is increasing. So find a client and promote their ads on social media.
6. Videography and Editing
There is a huge demand for video content from business organisations. They need videographers and editors to create videos to promote their products and services.

So, there is a huge opportunity for videographers and editor. So you can start it as a hobby later you can change it into a business if it worked.

If you have an interest in videography and editing, becoming a videographer or editor is easy.

Being a videographer, it is not just running a camera. It needs some artistic and creative skills.

You should know about the basic operations of video like aperture settings, iris settings, white balance.

You can start with making any kind of videos, any length, any subject, any resolution, with any camera or computer.

Then practice editing on your home computer and compare with some other popular videos. Don't be afraid to make mistakes and learn from them.

The more you shoot and practice the better you'll get. Still, you are not satisfied with your work, then there are lots of resources. Try these resources to become professional videographer and editor.
The Complete Video Editing Course With Sony Vegas Pro
Complete Adobe Premiere Pro Video Editing Course!

How to earn money through Videography and Editing?

1. Promote yourself and your skills in local communities. So that you will get some initial projects.

2. Make short original videos may be 5 to 10 minutes on various subjects and post your videos on YouTube and Vimeo. Check response of the users, their suggestions and improve your skills.

3. In the recent time, Short films are getting more popular and lots of people are creating short films. So, approach them and show your work. Definitely you will get a chance if they like your work.

7. Fitness or Yoga trainer

In these days, people are giving more importance to health and fitness. So there is huge demand for fitness and yoga trainers.

If you are sports related person or you have any knowledge in yoga, then you can work as fitness and yoga trainer.

If it is possible, get some certifications in yoga and fitness. It helps you to get more recolonization as a professional trainer.

There are lots of institutions are offering various certification programs. Try these resources, to get yoga certifications.
How to earn money as fitness and yoga trainer?

1. Start your career as yoga and fitness trainer by joining at local fitness and yoga centres.

2. You can register yourself at qriyo and work as a freelance fitness and yoga trainer. This will also give you a hands on practical experience in your field.

3. If you satisfied with your work, You can start your own fitness and yoga training centres.


8. Computer Technician
In today's digital world, every house may have a desktop or laptop. So, there is a need for professional computer technicians.

To become a technician you must have knowledge in basics of electronics and working of computers and laptops.

There exist two types of problems with computers and laptops, Software and Hardware.

Most common problems with computers and laptops are software related. So first start with software problems, then go for the hardware problems.
If you want to learn more skills, there are lots of online resources available. Try the following resources to learn how to solve computer software and hardware problems.
Learn Laptop Motherboard Repair

After learning the necessary skills, practice your skills on your computers and laptops. Later you can work for money.
How to earn money as computer technician?
1. You can earn money through software installation, maintenance and repairing computers and laptops.

2. You can assemble and sell new computers by purchasing components from wholesale vendors.

3. You can work as a freelance computer technician by joining at various online sites.
9. Mobile Technician

Day by day usage of mobiles and mobile phone sales are increasing. So, the world needs more and more mobile phone technicians.

So, learn cell phone repair to earn some extra money at your free time.

There are various offline courses, online courses, self-teaching books to learn cell phone repair. So, opt for any one of these methods as per your convenience.

Try following online resources to learn cell phone repair.
Start Your Own Business Repairing Cell Phones

How you can earn money as a cell phone technician?
1. If you are a beginner, then join at local cell phone repair company. So that you will get some experience. It will help you in your future.

2. You can start repairing mobiles of your friends and family members and earn some extra money.

3. If you want, you can try for a job at mobile manufacturing companies with this experience.
10. Buying and Selling
If you have marketing ability, you can earn money with buying ans selling products.

It is not a new concept. It is exist from our olden days. But, with the usage of internet it has taken a new dimension. You can buy from any where and sell any where.

There are number of people making money on eBay and Amazon with buying and selling products.
They buy from wholesale suppliers at low price and sell them at high price to the retailers. The difference is their profit.

you got interested!

But you don't know how to start then try these online resources to learn about buying and selling.
A Quick Start Guide to Selling on Amazon
Get Started Buying And Selling on eBay Today

How to earn money with buying and selling?

1. First find out unique products which have high demand through market research.

2. Then buy those products from wholesale vendors ans sell them at your local community. Then you will get knowledge of this process.

3. If it is profitable then sell on eBay, Amazon, Flipkart etc.

4. There are some online Wholesale Supplier Directory and Dropship Suppliers. So try those resources
Conclusion

As a student you may get some free time. Use it in a productive manner. To do so develop any hobby that you have interest.
If you become professional in that hobby then you can earn some extra money.
I am not saying that, this is the complete list of hobbies that make Money. Still there are other money making hobbies. try those hobbies.
So find and develop any hobby in which you have interest and improve your skills and use that hobby to make money.
If you like this articles then share it with your friends on Facebook or Twitter.