After receiving your first call letter for a job interview, you feel very happy and also as a fresher, you may get a lot of confusion in your mind.

How to prepare for a job interview?

How to present yourself in an interview?

What to do after interview: follow-up tips
The success of job interview not only depends on the knowledge you have but also various things like how you prepare for the job interview, how you presented yourself in front of interview panels and finally your follow-ups after the interview.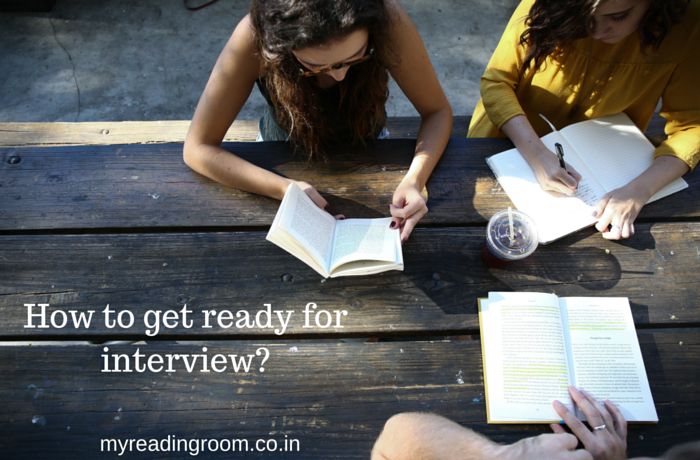 In this post, you can find various tips which helps you to prepare the interview effectively and succeed in your interview.
I. How to prepare for a job interview?

Even though you have required qualifications and lots of references, a poor performance in an interview effects on getting a job. But you can avoid this if you prepare well for your interview.

Tips for preparing for an interview:

1. Find common interview questions and prepare answers

The Interview is not a written exam, so you can never predict which questions you'll be asked in a job interview. However, through proper research, you can find some common questions asked by them. Spend some time to prepare responses for these questions.

According to the recent survey conducted by Careerbuilder, Here is the list of frequently asked questions at the time of interview.

Tell me about yourself: 55 percent

Why do you want this job?: 50 percent

Why did you leave your last job?: 50 percent

What is your greatest strength and greatest weakness?: 49 percent

Describe a difficult work situation and how you overcame it: 48 percent
So well prepare some other common job interview question and answers(2) along with these in advance so that you can feel comfortable while facing an interview.
2. Research about the organisation

Before the interview, Research about the company. Figure out the skills, interests and experiences required for the job through the organisation's website, social media (Linkedin, Facebook) profiles. And also research about their products and services, so that you're prepared to deliberate your views and ideas. (How to use LinkedIn to get a job)


Research the news, trends, competitors, history and opportunities of the organisation and its job sector and prepare some questions and responses so that you can able to answer the questions in a better way.

3. Contact your references

According to a Harris Interactive study conducted for CareerBuilder back in 2012, 80% of the 2,494 hiring managers and HR professionals said that they do contact references when evaluating a job candidate.
Prepare a list of references in advance who knows your abilities and experience that directly relate to the position.

So before attending an interview, contact your references and alert them that you have an interview and they may receive a call.
4. Mock interview

If you are attending the interview for the first time, then mock interview helps you to test your interview skills and find out your job interview weaknesses. So as a fresher attend mock interviews conducted by the career service centre of your college, by a career coach.

With the help of mock interview you can analyse your job interview weaknesses and the difficult situations where you didn't answer the questions and how is your communication skills.

It helps you to develop strategies to improve your communication skills, to overcome job interview weaknesses and your stress.

5. Prepare questions to ask at an interview

An interview is not one way communication. It should be in two-way communication. Employer pops the questions to know about you and your skills. Studies show that employers make a judgment about the candidate interest for the job based on the questions asked by you.

So, prepare questions to ask at an interview like your position, responsibilities, important qualities, your boss, and the company to be sure that this is the right job for you.

Usually, the end of the interview is your turn to ask questions. If you aren't prepared what to ask, then the interviewer may assume that you aren't interested in the job.

To do so, you must conduct your pre-interview research and prepare questions to ask and add any other queries that might arise from the interview.

6. What to take to interview?

As a fresher, you may have confusion about what to bring to an interview? Here is the list of things you should have with you.

Extra Copies of your résumé

Call letter

Contact details (Name, title, and phone number) of the person to ask for upon arrival

Samples or portfolio of related work you've done in the past.

The details of the references you specified on your résumé.

Anything else the employer has specifically asked you to bring!
The day before the interview, put all your required documents in one simple bag that can neatly hold all your items. It should be sturdy and something you can easily slip on and off your shoulder so both your hands are free.

Till now you are reading about "How to get ready for the job interview". Now the next stage is " How to present yourself in an interview?".

II. How to present yourself in an interview?

The success of the job interview depends on how you present yourself on the day of the interview. Even though you have prepared well before the interview, you are not presenting yourself in the right way, then you can miss a chance to get a job.

Here are the steps to follow on the day of the interview.

1. Start the day with confidence

Wake up in the morning (go to bed early the day or the days before the interview) and do some exercises before the interview, which helps you to beat your job interview stress and look rested and healthy. If the interview is in the morning, be sure to eat a healthy breakfast.

2. Dress for success in job interview
As a fresher you have confusion about"How to dress for a job interview?". Remember that without saying anything, an impression will be created based on how you're dressed. If you didn't take care of your appearance, then it creates a negative impression upon you.

The clothes must be clean and fit and be pressed. Both men and women should prefer colours like blue, brown, grey, black which make a professional impression.

It is always better wear formal clothes and keep accessories and jewellery to a minimum and use mild Deo's if you want. Try not to smoke right before the interview which may create uncomfortable for you.

3. Arrive on Time

Arrive on time to the place or 15 minutes before, so that you can settle down comfortably and to complete any additional paperwork if require. If you are new to the interview location, then a day or two before the job interview, visit the interview location so that you have an idea about where it is, where to park and how long to allow for the trip there. You don't want to get to the job interview late!

4. First Impression at job interview

We are all well-known that "First Impression is best impression". So, you must be very conscious while entering the interview location. You must show courtesy and offer warm greetings to everyone you meet - from parking attendant or receptionist to the hiring manager because you never know who has response in the hiring process, and you can only make a first impression once. Don't play with your phone or electronic device, stick with a book or review your notes while waiting.

5. Manage your body language

The nature of words used, facial expressions and body language together contribute in judging a person.
According to the recent survey conducted by Careerbuilder, Here is the list of common body language mistakes and their effect on the interview process.

1. Failing to make eye contact: 67 percent

2. Failing to smile: 39 percent

3. Playing with something on the table: 33 percent

4. Having bad posture: 30 percent

5. Fidgeting too much in their seats: 30 percent

6. Crossing their arms over their chests: 29 percent

7. Playing with their hair or touching their faces: 27 percent

8. Having a weak handshake: 21 percent

9. Using too many hand gestures: 11 percent

10. Having a handshake that was too strong: 7 percent
The body language mistakes can also reduce the chances of getting a job. So here are the tips to overcome body language mistakes.

1. Manage proper eye-contact

2. Maintain your position as neutral (Leaning back is lazy, Leaning forward shows aggressive)

3. Avoid pointing motions towards your employer.

4. Stop small movements with your hand or legs during your interview.

5. Match your facial expressions with your tone.

6. Don't use slang or jokes during your interview.
6. During the Interview – tips

Now it's time for the interview, keep in mind that first impressions — the ones interviewers make in the first few seconds of greeting you — can make or break an interview. Half of employers know within the first five minutes of an interview if a candidate is a good fit for a position
Here are the tips you must remember.

1. Make a strong first impression when greeting your interviewer.

2. Stand, smile, make eye contact (not in a psychic way because (4)cultures handle eye contact
3. differently), and offer a firm (neither limp and nor bone-crushing) handshake

4. Speak clearly and loudly, So that it is audible to everyone and say "please" and "thank you." Whenever necessary.

5. Talking audibly with fluency show how you're confident and good manners tell them how you respect other people.

6. Structure your answers into small chunks (Studies show that 30-90 seconds is enough).

7. Don't criticize your former employer.

8. Handle your stress carefully during the interview
7. How to leave the place

Although first impressions count for a lot, the way you leave an interview also can have a big impact on your chances of landing the job. Now it's your turn to ask questions related to your position, queries about the organisation and when you can expect a call back about the position.

Now hold your head high and keep your emotion cool and give shake hands with the interviewer and exchange pleasantries and walk out of the interview.
To Buy Click Here
III. What to do after interview: follow-up tips

In today's hypercompetitive job market, effective follow-up after the interview is a must, and failing to do it well might cause you to lose out to another candidate. The follow up should be at the proper time.

The standard follow-up time is about two weeks and but it can be varied. If you have not received any call back within the stipulated time period, then follow-up with the interviewer in a short email.

"Dear [interviewer's name], I interviewed at your company [at such and such date], and am still interested in the position if it hasn't yet been filled. I'd greatly appreciate any information you might have about my candidacy. I look forward to hearing from you." (source)

Conclusion

If you're not selected for the position, then don't take it as personal. Don't carry failures with you and don't assume that everything you're doing is wrong because you didn't get the job. Investigate the reasons why you failed at the interview and review your job preparation methods. Approach each new job opportunity with a fresh perspective and a new approach.

Succeeding in job interviews takes research, practice, and persistence. Interviews are about 80 percent preparation and 20 percent execution. The more effort you put into your interview preparation, the more success you'll see in obtaining job offers.

"Success is stumbling from failure to failure with no loss of enthusiasm." - Winston Churchill

After reading this, share your ideas and personal experiences in the comments below!