Day by day the world becomes "Digital". This phenomena also affect the marketing industry which turned into Digital Marketing. Now Digital Marketing became one of the best career options.

While surfing the net, quite often we may observe the beautiful banner ads, videos, Informative blog posts which are part of the digital marketing.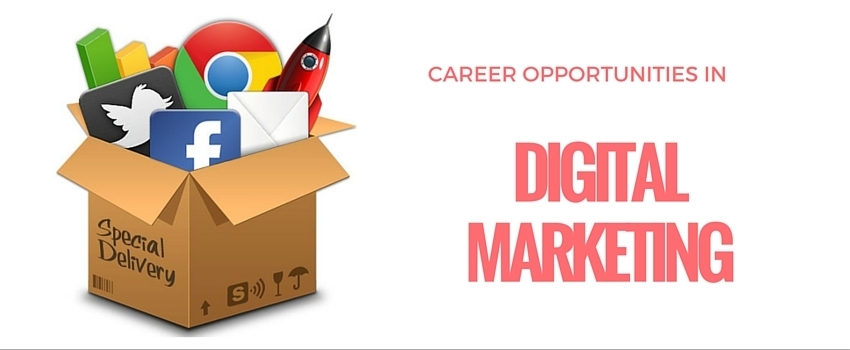 What is Digital Marketing?

Marketing is nothing but the action or business of promoting and selling products or services, including market research and advertising. The integrated marketing services used to attract, engage and convert customers online are referred as "Digital Marketing".

Digital marketing utilizes different channels like content marketing, SEO, social media and online advertising to help brands connect with customers and evaluate the performance of marketing programs in real-time.

Career in Digital Marketing After Graduation:

Digital marketing careers can be chosen by the student who completed his graduation and is looking for skill oriented booming professional career in a field of marketing coupled with technology.

Digital marketing is a vast field with a variety of areas and segments such as Social media, Content writing, Email marketing, SEO/SEM, Data Analysis, Designing, and many more…

To find the best suitable career in Digital Marketing, you have to identify your interests and strengths in order to select a particular area of Digital Marketing. It is better if you have basic general knowledge of all the areas of digital marketing, but specialization in one or more fields is required.

Different Jobs in Digital Marketing:

Depending the job functions in Digital Marketing in India, Some of the jobs in Digital Marketing are listed below.

1. Digital Marketing Manager and Web Manager

As a Digital Marketing Manager, The main responsibility is planning and budgetary control of all digital marketing strategy and keep the company at the forefront of developments in digital marketing.
He has to develop strategies to drive online traffic to the company website. Depending on the conversion rates, he has to create a new strategy to improve the usability, design, content and conversion of the company website.
2. Social Media Manager
As a Social Media Manager, depending the company digital marketing strategy, he has to capture and analyse the appropriate social data/metrics, insights, and best practices and then acting on the information to Build and execute social media strategy through competitive research, platform determination, benchmarking, messaging and audience identification.

Based on the digital marketing strategy generate, edit, publish and share daily content (original text, images, video or HTML) that builds meaningful connections and encourages community members to take action.
3. Analytics Manager

The analytics manager plays a key role in the company digital marketing processes. The tasks of an analytics manager include generating data and information from previous marketing plans, distribute gathered information and data to significant members of the organization, as well as presenting accurate and complete data across the organizations. This data plays a more vital role in developing strategies in order to increase the revenue of the company by use analytics management.

He must have experience in web analytics and metrics reporting tools, marketing automation tools and techniques, database analysis, social analytics platforms, and statistical modelling.
4. CRM and Email marketing Manager

E-mail marketing is also part of the company digital marketing strategy. As the Email marketing manager, the main responsibility is to manage the organization's email marketing campaigns and maximize revenue opportunities from the companies CRM and customer database.

He should track and report sales and revenues generated through email marketing campaigns to the marketing director. He should also ensure that email marketing campaigns comply with the industry standards.
5. Copywriter

Normally in the digital marketing era, copywriter role is most important. He is responsible for brainstorming, creating, and transforming ideas into words for articles, advertisements, publications, and pamphlets depending on the organization's digital marketing campaigns.

Before creating the content, he should Research product technical properties and determine what makes products appealing to consumers. Then Develop unique and new concepts for effective advertising campaigns.
6. PPC Search Manager

PPC Stands for Pay-Per-click. In this model, the advertisers pay a fee when their ad is clicked. PPC Search Manager is responsible for the maintenance and monitoring of keyword bids, daily and monthly budgets, impression share, quality score and other important account metrics.

He should create and manage large keyword lists which are used for creative copy suggestions and graphical ad templates.

To become a PPC Search manager, he should have a passion for search and internet marketing and outstanding ability to think creatively, and identify and resolve problems.
7. Search Manager / SEO Manager

When you want to buy Apple iPhone 6, then what you will do? You will open Google or any other search engine and you will type like this " Best Price for Apple iPhone 6". Then search engine like Google or Bing displays search results. From that results, you can select any website to buy the product.
You may observe there are so many websites which are selling Apple iPhone 6. But only a few of them are getting displayed on the first page. So, you may think that How they came to the first page. It is the responsibility of the SEO Manager.

In Digital Marketing, the major responsibility for Search Manager / SEO (Search Engine Optimisation) Manager is to manage all the SEO activities like keyword strategy, content strategy and link building. He should also responsible for increasing inbound organic traffic on all major search networks like Google, Bing, Yahoo etc.

To accomplish his responsibilities as SEO Manager, He must have proper knowledge about Google analytics and Webmaster tools and Google's Keyword Tool.

He must design and execute strategies for content development in coordination with SEO goals and then Monitor and evaluate search results and search performance across the major search channels.

He should also monitor the web analytic dashboards and should generate reports regarding the performance by using various tools and he should find out the key areas of importance in accordance client goals for better inbound organic traffic.

8. Web Developer or Web Designer

Web Developer or Web Designer is responsible for coding, design, and layout of the website depending on the company requirements. You should work with Project Managers and other members of the Development Team to both develop detailed specification documents, with clear project deliverables and timelines, and to ensure timely completion of deliverables. You should be familiar with one of the programming languages - PHP, ASP.NET, Javascript or Ruby on Rails.
After Reading, Please leave a comment or like this page